Current Members
Brian Wright – Lead Vocals, Lyrics
Brian's home is all of South Texas. From a young age he had a love of music and lyrics, and for years he wrote songs not knowing what they were for. Getting connected with Wade and Lee started turning those lyrics into songs. Brian enjoys a good game of baseball and can't play guitar, but somehow is better at guitar than baseball (ask him). He is inspired by a variety of music including Texas Country, Alternative, Rock and Grunge and is going to keep pestering the guys until we do a Nirvana cover. Until we make our first million, Brian works in Marketing & Advertising in the Corpus Christi area.
Wade Capps – Guitar/Vocals, Lyrics, Production, Graphic Design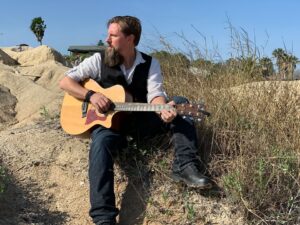 Wade was born in Mississippi to a military family. He grew up watching his father, George, play guitar and sing in each church they attended while being transferred around the States. Wade's brother, Joe, also picked up the guitar and formed his own band. With an abundance of guitars and music in his home, it was almost pre-destined that Wade would pick up the guitar as well. Throughout his life, he played in the solitude of his bedroom until joining a praise band in Portland, Texas. There he met Lee Dykes and the two of them formed a duo band, Reluctant Harmonies. The two of them have played at a local bookstore once a month or so for the last four years. Wade met Brian Wright at work and brought him into the duet as a lyricist and singer. The three formed a solid band and began writing original music. Today, Wade thoroughly enjoys writing music, watching Netflix, and engrossing himself in the creative process at every opportunity. Wade is married to his beautiful wife, Amanda, and has two great kids.
Lee Dykes – Bass/Vocals/Keys, Promotion, Booking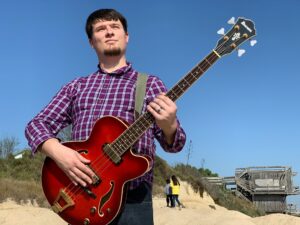 Lee is a Vermonter who has lived in Texas more than half his life. Many of his earliest memories are of his dad's bands practicing and playing on stage. As a Dykes it was expected that he follow in the family tradition of music. He learned saxophone for band, picked up bass in high school, and did a little singing at Texas A&M University – Kingsville. After freshman year there he hit a period where music was totally out of his life, but that couldn't last. Praise Band in Portland brought him back to performing and it wasn't long until he and the new guitarist in the band, Wade, joined up to play as Reluctant Harmonies. A few configurations later he serves as a composer, bassist, keys player and backup vocalist for The East & The Crow. His life outside of music is pretty full with family and working as a remote software engineer. Alyssa claimed his heart, and they have 3 (crazy) children.
Ralph Tobias – Lead Guitar, Lyrics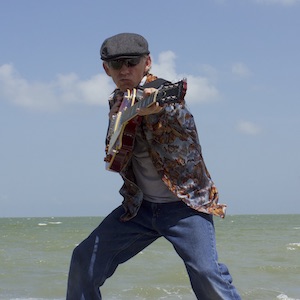 Ralph is a native Pennsylvanian who moved to Corpus Christi earlier this year from Utah. He comes from a very musical family with all five siblings either singing or playing instruments. His father has been playing guitar professionally for over 70 years and once had a number one song on the east coast. Ralph began taking guitar lessons from his dad at the age of 13 and has been playing lead ever since. The tradition continued with him teaching guitar for several years and continuing to write original music. He counts Joe Satriani, Carlos Santana, Ace Frehley, Dan Fogelberg, and Eric Clapton as primary influences, but his ultimate guitar hero is his father.
Peter G – Drums, Sound Engineer
Peter G was born and raised in Corpus Christi Texas. From his first guitar lessons to playing on five-gallon buckets as drums, he has embraced the passion and energy that music brings. Peter G started preforming in his teen years and has covered a broad spectrum of genres from Tejano to Metal. Peter's musical carrier has been from roadie to sound engineer, from percussionist to band leader, from guitarist to song writer all while remaining humble to his band mates and craft. Peter's musical influences are David Grohl, Taylor Hawkins, Niko McBain, Alex Gonzalez, Tom Morello, and Justin Furstenfeld to name a few and is always willing to listen and create new music. Peter is married to Lucy who has always supported him and is a big part of his brand. With 2 adult children one niece (that is practically another child) a 6-year-old son and a 4-year-old granddaughter, he maintains a busy life with God, family, work, music, and an occasional fishing trip.
Dr. George Woods – Guitar
George Woods is our latest addition, taking a permanent spot as a rhythm guitarist. George has a huge presence in the Corpus Christi music community playing in Dreams (Fleetwood Mac tribute band), Voodoo Logic, and formerly in acts including Edison.
Legacy Members
Quinn Mosel
Drums, Merch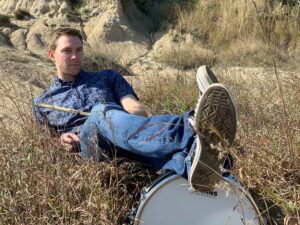 Quinn was born in Saint Petersburg, Florida and grew up in the Midwest before finding his home in South Texas. The love of music has always inspired him but he did not start playing the drums until just six years ago when he met Brian at work. Quinn joined the rest of the crew about a year and a half ago but took a short leave of absence to finish another degree in the medical field. After finding his way back into the band, he is able to enjoy the love of his career and the drums simultaneously. Quinn is happily married to his wife Melanie who may or may not approves of the loud "obnoxious" late night drum grooves coming from the spare bedroom.
Chip Crossley
Rhythm Guitar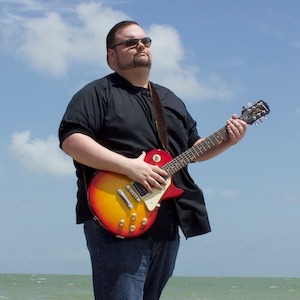 Chip was born and grew up around music in Maryland, picking up the guitar by 12. In those early years he was inspired by 90's Alternative Rock and Grunge, Outlaw Country and Heavy Metal. Chip moved to Texas in 2003 and has grown to love the Lone Star State. There he also started working with Brian and Wade and was invited into the band in March 2019. Outside of music he is interested in movies, the Baltimore Ravens, being a comic book "nerd" and spending time with his wife Misty and their 3 children.